WWE Superstar Alexa Bliss is allegedly taking some time off from the company following her loss at the Royal Rumble. The five-time women's champion took to Twitter to address a few criticisms she has received since the reports of her break surfaced.
Bliss unsuccessfully challenged Bianca Belair for the RAW Women's Title at the Rumble. Following the match, Uncle Howdy reminded her that she was "not in control" through a video package. She hasn't been seen since and may not be for a while, following PWInsider's report on her absence, which isn't injury-related.
While it isn't known how long Alexa Bliss will be away from television, fans have apparently said some negative things about her. She has been accused of not caring anymore, as mentioned in her tweet. Here is a screengrab of what Little Miss Bliss posted: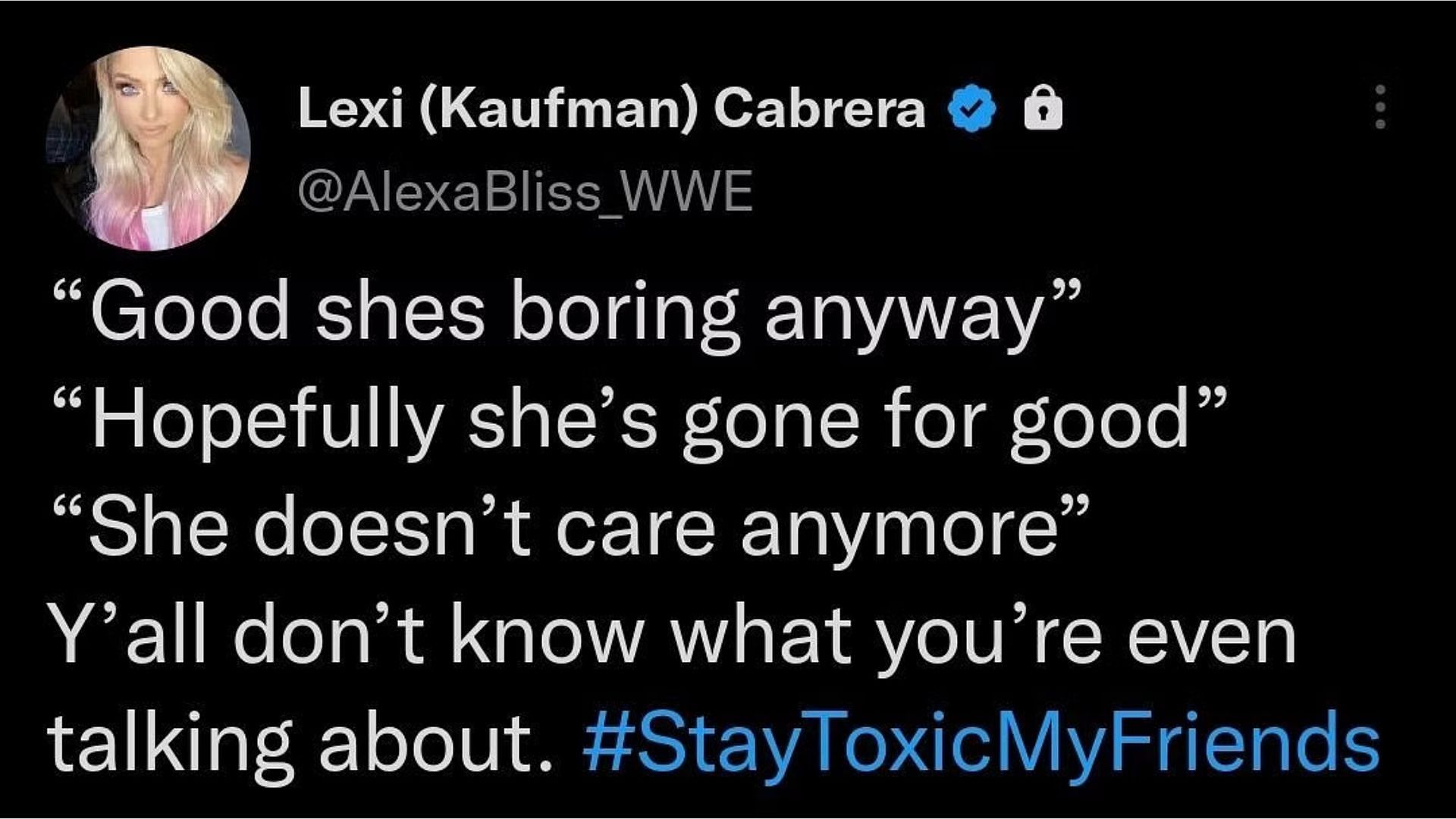 Former WWE Superstar Nia Jax replied to the tweet, claiming she has Alexa's back. The two are close friends in real life, as evidenced by Bliss saying that she missed Jax after her return at the Royal Rumble.
"If you hate them, I hate them," tweeted Nia Jax.
Check out her reply below:
We wish Alexa Bliss the best in whatever she may be going through amid her WWE hiatus. Hopefully, she can return to the ring in time for WrestleMania 39.
---
Bray Wyatt hinted at reuniting with Alexa Bliss in WWE
Little Miss Bliss has a readymade storyline upon her WWE return. The Uncle Howdy teases, including after her match at the Royal Rumble, could lead to an angle with Bray Wyatt. The two previously formed an alliance in 2020 before Alexa betrayed the two-time Universal Champion at WrestleMania 37.
Following his victory over LA Knight in the highly lucrative Mountain Dew Pitch Black Match, Wyatt spoke about possibly reuniting with Alexa Bliss during the post-Royal Rumble press conference. He said they are connected forever, and their eventual angle will be memorable.
It remains to be seen how WWE will book The Goddess once she returns from her reported hiatus. Wyatt's words are an encouraging sign for those who want to see the two of them reunite. WrestleMania would be a great place to pull the trigger if Bliss is back by then.